TURN YOUR WWE FIGURES INTO CASH!
We purchase all unopened WWE figures!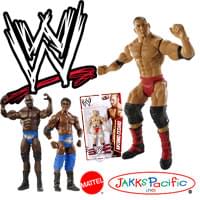 Escape hassle and ebay fees and quickly turn your collection into cash with Brian's Toys. Create a list of your items with the tools below.
Online Webapp: This list includes prices for most WWE figures produced by Jakks Pacific and Mattel since 1993. Use the search options to add each of your items then submit your list!
InstantQuote Form and PDF Lists: Download the form and add each of your figures. Email the completed list to buying@brianstoys.com.
For step-by-step instructions on our process, visit our main buying page.

Quote Options
Online WebApp
Response Time:
1-2 Business Days
Use the online webapp to search and add each of your items to create a list. Submit for a quote.
InstantQuote Form
Response Time:
1-2 Business Days
Download the InstantQuote Excel checklist and then e-mail the completed form to buying@brianstoys.com